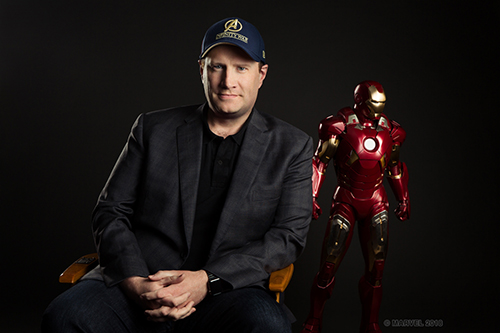 According to an October 15 exclusive in Deadline, Marvel Studios President Kevin Feige has been named Chief Creative Officer across all of Marvel's storytelling and content creation platforms. This includes but is not limited to comics publishing.
In addition to Feige's current Marvel Studios duties, according to Deadline, "all the company's key creative executives across film and TV will now report to him, sources said. Already master of the Marvel Cinematic Universe, Feige's oversight will extend to the overall creative direction of Marvel's storytelling and content creation platforms. As part of this, Marvel TV and animation generator Marvel Family Entertainment will move under Feige's Marvel Studios banner." He will continue reporting to Walt Disney Studios Co-Chairman and Chief Creative Officer Alan Horn and Co-Chairman Alan Bergman.
Dan Buckley will remain President of Marvel Entertainment, in charge of publishing both creative and editorial under Feige. He will also direct publishing operations, sales, creative services, games, licensing and events under Marvel Entertainment Chairman Ike Perlmutter.
Executive Vice President, Creative Director for Marvel Entertainment Joe Quesada, Marvel Entertainment Vice President of Content and Character Development Sana Amanat, Editor in Chief and Head of Global Editorial CB Cebulski, and Vice President of Creative and Content Development Stephen Wacker will continue in their roles, reporting to Buckley.
---
Original post: https://www.previewsworld.com/Article/236121-Kevin-Feige-Named-Marvel-Comics-Chief-Creative-Officer