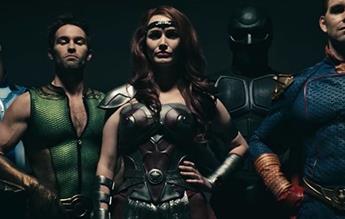 Originally published by Wildstorm and DC Comics, Garth Ennis and Darick Robertson's The Boys gave readers a look at the more corrupt side of superheroes. Thes series really pushed boundaries for the genre. So much in fact that DC dropped the series despite its popularity. Sending the creator-owned comic to Dynamite for continuation — to the joy of demented comic fans everywhere.
Now, Seth Rogen and Evan Goldberg (likely the only two producers brave enough to tackle this series) are bringing Ennis and Robertson's antagonistic, dark comedy to Amazon Prime. 
Take a look at the trailer above, and be sure to pick up the series in trade from your local comic shop.
From Amazon:
In a world where superheroes embrace the darker side of their massive celebrity and fame, THE BOYS centers on a group of vigilantes known informally as "The Boys," who set out to take down corrupt superheroes with no more than their blue-collar grit and a willingness to fight dirty. THE BOYS is a fun and irreverent take on what happens when superheroes – who are as popular as celebrities, as influential as politicians and as revered as Gods – abuse their superpowers rather than use them for good. It's the powerless against the super powerful as The Boys embark on a heroic quest to expose the truth about "The Seven," and Vought – the multi-billion dollar conglomerate that manages these superheroes. Coming Summer 2019.
---
Original post: https://www.previewsworld.com/Article/225596-Official-Trailer-The-Boys-Come-To-Amazon-Prime