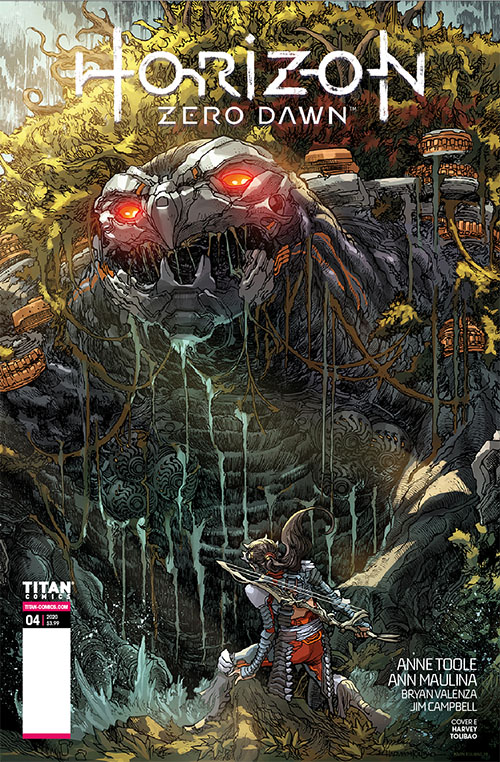 Meet the machine!
UK publisher Titan Comics just revealed the art for Horizon Zero Dawn #4 (AUG209046) cover that features a new machine that will make its debut in the upcoming sequel game (above).
Horizon Zero Dawn #4 is the upcoming installment in the brand-new comic series based on the award-winning game by Guerrilla. In issue #4, Aloy and Talanah return in a new story set after the events of the game! Nature has reclaimed the planet. Awe-inspiring machines dominate the land, as humanity fights for survival on this new earth. One of those machines is The Shellsnapper, a behemoth originally teased in the announcement trailer for Horizon Zero Dawn Forbidden West (above). According to early details from Titan, the amphibious Shellsnapper can dig itself in and lie dormant for days or even weeks, allowing its impenetrable shell to become covered by the surrounding foliage.
Horizon Zero Dawn #4 hits comic shops on November 4th.
For more from Titan, keep an eye on PREVIEWSworld.com's Twitter, Facebook, YouTube, or Instagram.
---
Original post: https://www.previewsworld.com/Article/246352-Reveal-The-Shellsnapper-Debuts-Inside-Horizon-Zero-Dawn-4