Next month, Marvel honors Indigenous history with Marvel's Voices: Indigenous Voices #1, a landmark special exploring the legacy and experiences of Marvel's incredible cast of Indigenous characters in stories told by renowned Indigenous talent.
Today, Marvel is proud to present one of the covers of this upcoming book by celebrated artist and writer Jeffrey Veregge. This vibrant cover, done in Veregge's iconic artistic Formline style, depicts the Sorcerer Supreme and the Ghost Rider of the mid-1800s, Kushala. The Apache warrior, also known as the Demon Rider, immediately garnered fan interest when she made her startling debut in 2016's Doctor Strange and the Sorcerers Supreme by Robbie Thompson and Javier Rodriguez.
As her origins were revealed, the character's story added new depth to both the mythologies of the Spirit of Vengeance and the Mystic Arts. Fans will get to learn even more about Kushala in an exhilarating new solo comic series coming in 2021!
Stay tuned for more information about the unique adventures in store for this fascinating new Marvel hero. In the meantime, see Jeffrey Veregge's cover below (SEP208505) and be sure to check out Marvel's Voices: Indigenous Voices #1 (SEP200605) when it hits comic shops on November 18th!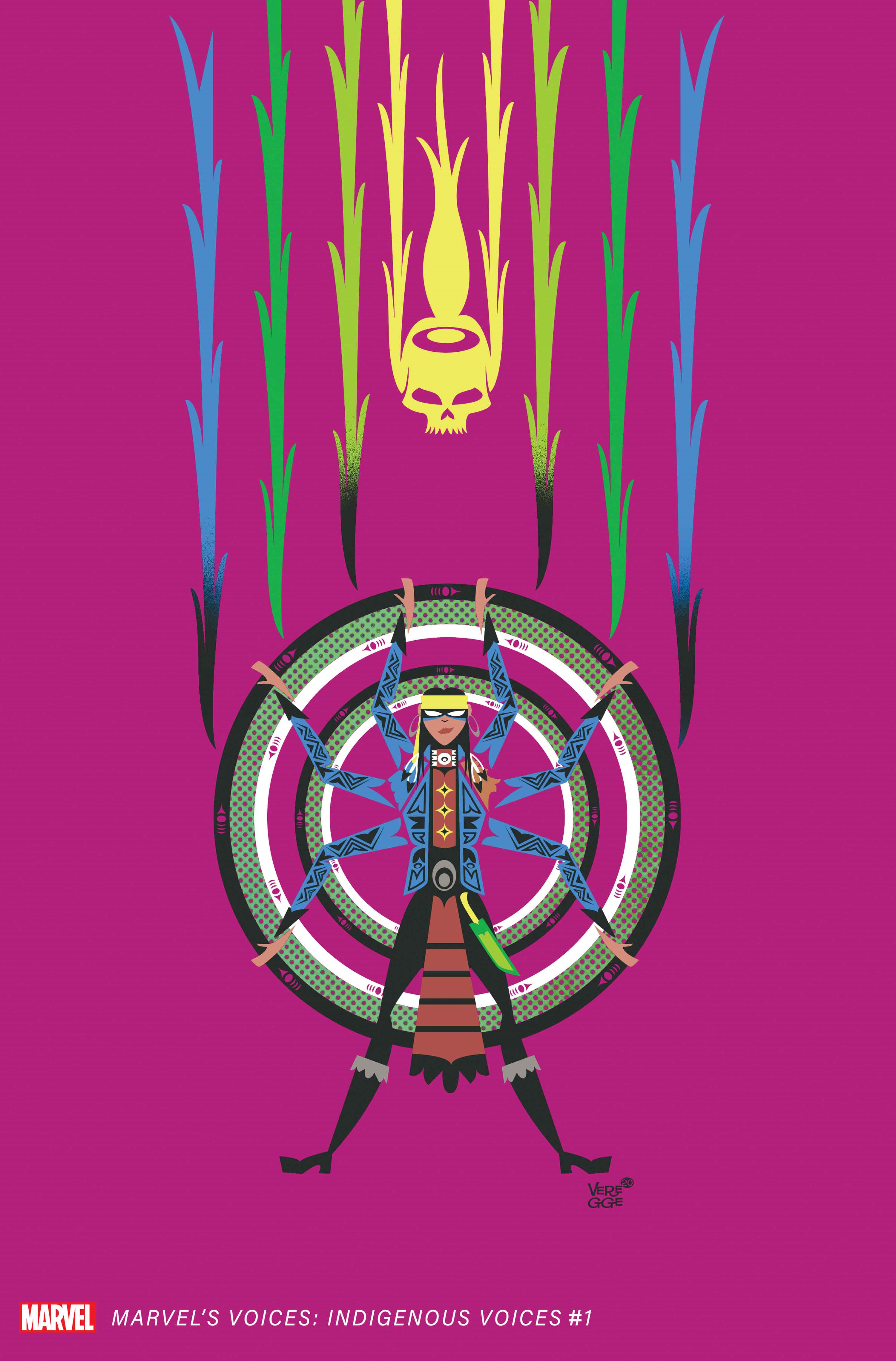 MARVEL'S VOICES: INDIGENOUS VOICES #1 (SEP200605)
Written by JEFFREY VEREGGE, REBECCA ROANHORSE, DARCIE LITTLE BADGER & STEPHEN GRAHAM JONES
Art by JEFFREY VEREGGE, WESHOYOT ALVITRE, KYLE CHARLES & DAVID CUTLER
Cover by JIM TERRY & BRIAN REBER
Commentary by TABOO & BEN JACKENDOFF
Variant Cover by JEFFREY VEREGGE (SEP208505)
On sale November 18, 2020
---
Original post: https://www.previewsworld.com/Article/246792-The-Demon-Rider-Returns-on-Jeffrey-Veregges-Marvels-Voices-Indigenous-Voices-1-Cover