With only two months until the highly-anticipated series House of X (MAY190690) and Powers of X (MAY190703) usher in a new era for the X-Men, fans of Marvel's (not-so) merry mutants received the latest in a recent string of teases via the publisher's Twitter. Check it out below.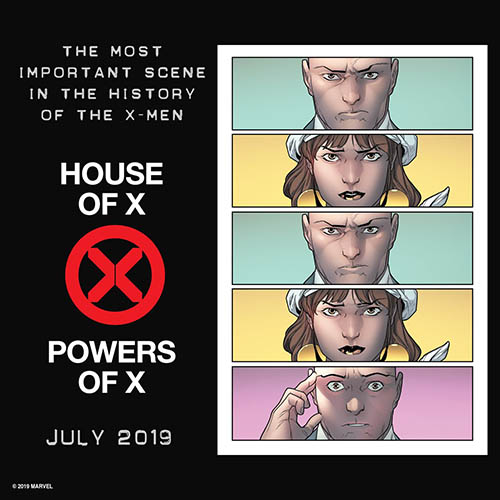 House of X and Powers of X marks the return of writer Jonathan Hickman (Secret War) at Marvel. The series promises to build from every major X-Men milestone since 1963. If the above teaser image is any indication, Hickman – along with artists Pepe Larraz and R.B. Silva – seems determined to have his run ranked among the X-franchise's seminal moments.
Speaking of "seminal moments," the House of Ideas will also be releasing a four-part series online to celebrate the X-Men runs that changed the Marvel Universe forever. Specifically, Giant-Size X-Men, 1991's X-Men #1, Age of Apocalypse, and New X-Men. Sponsored by this summer's blockbuster HOUSE OF X and POWERS OF X series, these new retrospectives will take both longtime and new X-Men fans back to some of the greatest moments in the Marvel Universe, setting the scene for the most important story in the history of mutantkind. You can watch the first episode below.
The next seminal moment in the history of the X-Men begins this July!
---
Original post: https://www.previewsworld.com/Article/229967-The-Most-Important-Scene-In-X-Men-History